Las Vegas to Welcome New Nonstop Service from Paris with LEVEL Airlines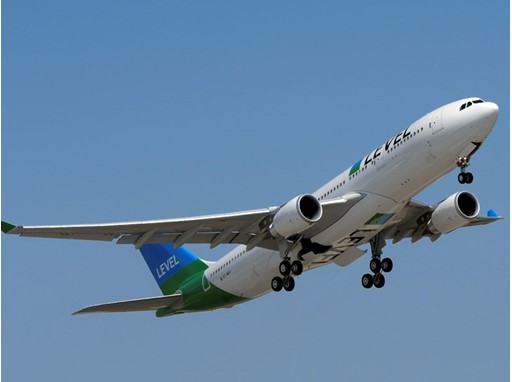 Las Vegas, May 8, 2019 –
International Airlines Group's (IAG) long-haul, low-cost airline brand LEVEL will launch nonstop trans-Atlantic service between Paris and Las Vegas beginning October 30, 2019.  The twice weekly service is expected to generate an estimated economic impact of $46.3 million and will mark the first regularly scheduled nonstop service from Paris to Las Vegas since 2014.  Fares start from $99* one way and tickets are on sale now at
flylevel.com
.
Vincent Hodder, LEVEL CEO, said: "We're delighted to add Las Vegas to our LEVEL network, offering nonstop flights to Paris. LEVEL is a new concept that offers customers something unique and different, allowing them to access exciting destinations and providing them with control over the way they travel at every touch point. Customers will also be able to fly to other parts of Europe through connecting flights from Paris Orly airport, with our airline partner Vueling."
LEVEL will add a third new Airbus 330-200 aircraft to its Paris fleet in September, providing the opportunity to launch this new direct route to Las Vegas.  LEVEL aircraft are equipped with 293 Economy and 21 Premium Economy seats.
"The addition of LEVEL and its Paris service is great news for McCarran International Airport and the passengers it serves," said Clark County Director of Aviation Rosemary Vassiliadis. "Travelers will enjoy the convenience that comes with nonstop service, and we know the strength of the Las Vegas brand will appeal to French travelers just as much as the chance to fly directly to Paris will thrill our local residents. We're committed to offering a world-class airport experience, including a new lounge space, expanded duty free shopping, and additional gates equipped to serve a growing number of nonstop international arrivals."  
 "We are thrilled to welcome new nonstop service between Paris and Las Vegas with our newest airline partner, LEVEL," said Steve Hill, CEO/President of the Las Vegas Convention and Visitors Authority (LVCVA.) "This new route provides additional access and travel flexibility for our visitors from France and beyond. Expanding air service is a long-term process, and we celebrate this important milestone with LEVEL, McCarran International Airport and with our resort and allied partners."
Checked luggage (plus a free cabin bag), meals, seat selection and the latest movie releases will be complimentary for customers flying in the Premium Cabin. Those travelling in Economy can chose what they want to buy based on a menu of choices. Next generation inflight technology will be available for all customers with a wide range of onboard entertainment options. There is also super high-speed internet connectivity with prices starting at €8.99 ($10.00 USD).
LAS VEGAS < > PARIS (ORLY)

WEDNESDAY & SUNDAY

FLIGHT NUMBER

Departure

Arrival

LV8012

LAS

7 :00pm

ORY

2:45pm

LV8011

ORY

2:15pm

LAS

5 :00pm
From Paris, LEVEL flies currently to New York (JFK), Guadeloupe, Martinique and Montréal. From Barcelona, LEVEL flies to Boston, San Francisco, Buenos Aires and Santiago de Chile, adding New York (JFK) in July 2019. Flights are available at
flylevel.com
.
Follow LEVEL (#FLYwithLEVEL) at:
(*) Lead-in fares from Las Vegas to Paris Orly start at $99 one-way. Subject to availability.
ABOUT LEVEL
LEVEL is International Airlines Group's (IAG) low cost longhaul airline brand that took to the skies in June 2017. From Paris Orly, LEVEL flies to New York (Newark), Guadeloupe, Martinique, Montréal (summer season) and will add Las Vegas from October 30th this year. From Barcelona, LEVEL operates to San Francisco, Buenos Aires, Boston and Santiago de Chile, adding New York (JFK) in July 2019. LEVEL is bringing a stylish and modern approach to flying at prices that are even more affordable. LEVEL is IAG's fifth main airline brand alongside Aer Lingus, British Airways, Iberia and Vueling.
Media Relations
ABOUT THE LVCVA
The Las Vegas Convention and Visitors Authority (LVCVA) is charged with marketing Southern Nevada as a tourism and convention destination worldwide, and also with operating the Las Vegas Convention Center. With nearly 150,000 hotel rooms in Las Vegas alone and more than 11 million square feet of meeting and exhibit space citywide, the LVCVA's mission centers on attracting ever increasing numbers of leisure and business visitors to the area. Download the virtual reality app, Vegas VR, to experience Las Vegas from your iPhone or Android by visiting
http://www.vrtv.vegas/
. For more information, go to
www.lvcva.com
or
www.visitlasvegas.com
.
ABOUT McCARRAN INTERNATIONAL AIRPORT
McCarran International Airport is located in the shadows of the world-famous Las Vegas Strip and is the gateway for nearly half of the people who visit Southern Nevada each year. Including arrivals and departures, McCarran hosted 48.5 million passengers in 2017, making it the eighth-busiest airport in North America. With 30 airlines providing nonstop service to more than 140 destinations, McCarran makes it possible for the world to experience one of the most alluring travel destinations. McCarran International Airport is owned and operated by Clark County, Nevada, and does not benefit from local tax dollars.
CONTACTS
Heidi Hayes

LVCVA

United States

702-892-0711
MORE FROM NEWS RELEASES
SUBSCRIBE TO RSS FEED
XML