Viva Aerobus Launches New Service from Mexico City to Las Vegas
December 15, 2017
McCarran International Airport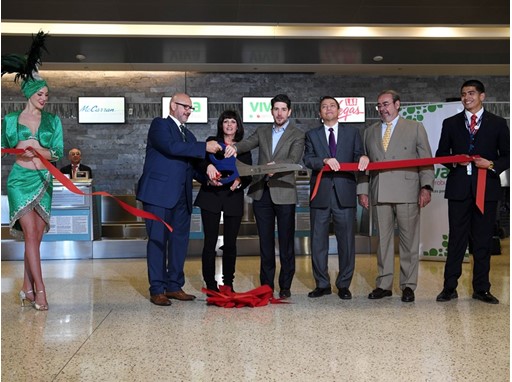 LAS VEGAS --  Viva Aerobus, Mexico´s ultra-low-cost airline, inaugurated its new international route from Mexico City to Las Vegas on Dec. 15, the result of its commitment to expand an affordable connectivity network for everyone. The route will have a daily frequency and tickets at prices starting from USD $114 ($2,117 pesos).
The ceremony was attended by Alejandro Madrigal Becerra, consul of Mexico, Rosemary Vassiliadis, director of Clark County Aviation Department, Rafael Villanueva, senior director of international sales for the Las Vegas Convention and Visitors Authority and Juan Carlos Zuazua, general director of Viva Aerobus, who led the classic ribbon cutting ceremony to celebrate the new accessibility and route between both countries.
"The arrival of Viva Aerobus to Las Vegas is a great opportunity to continue strengthening commercial and tourism relations between Mexico and the state of Nevada. Currently, Mexican tourists are the second largest group of international visitors to the state. We hope that this new route will also contribute to increase the number of visitors from the United States and other countries to Mexico," said the consul of Mexico, Alejandro Madrigal.
This new route is part of the Viva Aerobus strategy focused on customers. "Each new route is backed by the deep knowledge we have of our passengers. Our vocation is to satisfy their needs and preferences. Thus, we know how and where they want to travel and Mexico is the second most important international market for Las Vegas," said Juan Carlos Zuazua, general director of Viva Aerobus.
"We are thrilled to see our airline partnerships continue to expand, providing more nonstop options for visitors from Mexico," said Cathy Tull, senior vice president of marketing for the Las Vegas Convention and Visitors Authority (LVCVA).
"With the new daily route on Viva Aerobus, we are anticipating nearly $78 million in annual economic impact. More than 1.2 million travelers from Mexico visit Las Vegas every year, and this added service provides continued growth to help us achieve our goal of increasing international visitation over the next decade," Tull added.
"We welcome Viva Aerobus's newest nonstop flights and believe its low fares will bring great success, making Las Vegas an even more easily accessible option for Mexican visitors," said Rosemary A. Vassiliadis, Clark County Aviation Director. "In response to continued interest from around the world, McCarran International Airport recently increased its capacity to handle international arrivals and is expanding amenities with a new high-end airport lounge and expansive duty-free retail location."
In the words of Juan Carlos Zuazua, the greater availability of flights at a competitive price will increase passenger traffic, boosting business and tourism for both Mexico and the United States, by connecting the wide cultural offering of the Entertainment Capital of the World and the city with the most museums in the world.
"We are closing a great year for Viva Aerobus. Today we are the fastest growing Mexican airline. In fact, this year we expect to have an approximate increase of 30 percent in terms of passengers. We are very proud to celebrate 11 years of service to all travelers," concluded Zuazua.
Passengers can buy their tickets on Viva's official website:
https://www.vivaaerobus.com/en
, in VivaTiendas, calling the Call Center 0181 82 150 150 or at any point of sale of Grupo IAMSA such as Omnibus de México, ETN, TAP, Primera Plus, Aers, TMT Caminante, La Línea and Autovías.
About Viva Aerobus
Viva Aerobus is Mexico's low-cost airline. It started operations in 2006 and today operates the youngest Latin American fleet with 24 Airbus A320, including two A320neo on 88 routes and 37 different destinations. With a clear vision to give all people the opportunity to fly, Viva Aerobus has democratized the airline industry with the lowest rates in México and the lowest costs in Latin America, making their flights the best value offer. 
About LVCVA
The Las Vegas Convention and Visitors Authority (LVCVA) is charged with marketing Southern Nevada as a tourism and convention destination worldwide, and also with operating the Las Vegas Convention Center and Cashman Center. With nearly 150,000 hotel rooms in Las Vegas alone and more than 11 million square feet of meeting and exhibit space citywide, the LVCVA's mission centers on attracting ever increasing numbers of leisure and business visitors to the area. Download the virtual reality app, Vegas VR, to experience Las Vegas from your iPhone or Android by visiting http://www.vrtv.vegas/. For more information, go to www.lvcva.com or
www.visitlasvegas.com
​.
About McCarran International Airport
McCarran International Airport is located in the shadows of the world-famous Las Vegas Strip and is the gateway for nearly half of the people who visit Southern Nevada each year. Including arrivals and departures, McCarran hosted more than 47.4 million passengers in 2016, making it the eighth-busiest airport in North America. With nearly 30 airlines providing nonstop service to more than 130 destinations, McCarran makes it possible for the world to experience one of the most alluring travel destinations. McCarran International Airport is owned and operated by Clark County, Nevada, and does not benefit from local tax dollars.
CONTACTS
Heidi Hayes

LVCVA

United States

702-892-0711

Crissy Hunt

LVCVA

United States

702-892-0711