Ultimate Vegas Sports Weekend Kicks Off With Downtown Las Vegas Fan Fest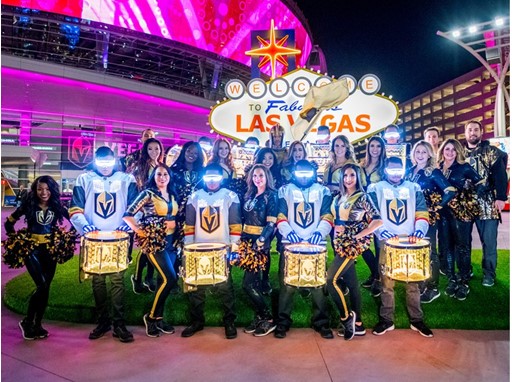 Featuring NASCAR, USA Sevens Rugby, UFC, and Vegas Golden Knights hockey, the Ultimate Vegas Sports Weekend debuted to great fanfare in 2018.  The 2019 UVSW will provide an even greater fan experience, with an expanded FAN FEST and the addition of the Tuff Hedeman Bull Riding Tour to the weekend's sports mix.
Before kicking off their individual races, competitions, matches and games, the Downtown Las Vegas Events Center will transform into a sports fan's dream zone with interactive experiences, athlete appearances, prize giveaways and more from all of the featured sports as well as the Las Vegas Lights FC, Aces, Aviators, UNLV, Boyd Gaming, Southern Nevada Sports Hall of Fame and more!
NASCAR fans can meet and get autographs from Las Vegas natives Brendan Gaughan and Noah Gragson.  Stock cars, the merchandise trailer and the Las Vegas Motor Speedway mascot, Pit Boss, will also be on sight. 
Hockey fans can test their skills on a Vegas Golden Knights net and hang out with everyone's favorite gila monster, Chance.
Listen up fight fans!  Meet UFC fighters, punch it out on the striking challenge and browse the latest merchandise.
Rugby's Team USA top scorer and number one player in the world for the past two years, Perry Baker will be on hand for a meet and greet as well as the USA Sevens Rugby mascots Mr. Rug-Bee and Richie Rhino.
See for yourself the raw power faced by bull riders as fans can get up close and personal with Hellfire, a real life 1,500-pound rodeo bull. ProRodeo and Bull Riding Hall of Famer Tuff Hedeman, back-flipping bullfighter Bryce Redo and bullrider Eli Vastbinder will be meeting fans and signing autographs.   
There will also be additional autograph signing, meet and greets, mascots, ticket and prize giveaways, food trucks and drinks throughout the FAN FEST.
The FAN FEST will conclude just as the annual
NASCAR Hauler Parade
will make its way up Las Vegas Blvd. and through Downtown Las Vegas.  Beginning at the Welcome to Las Vegas sign just south of Mandalay Bay, approximately 40 brightly colored 18-wheeled haulers receive a police escort as they parade up the Strip.  For the first time, the parade will make its way through Downtown Las Vegas to the U.S. 95/LV Blvd. interchange before making their way north to the Las Vegas Motor Speedway.
The festivities continue with the
USA Sevens Parade of Nations
and Opening Ceremony just a short walk away on Fremont Street.  Fans from all over the world can interact with players as the teams proudly march down Fremont Street.
Finally, head back to the Downtown Las Vegas Events Center for the Vegas Golden Knights watch party presented by the D Las Vegas as they take on the Florida Panthers at 7:00 p.m.
3:00-6:00 p.m.            Ultimate Vegas Sports Weekend FAN FEST
                                    Downtown Las Vegas Events Center
                                    200 S. 3rd Street
6:00 p.m.                     NASCAR Hauler Parade
                                    Begins at Welcome to Las Vegas Sign and runs north on Las Vegas Blvd. to the U.S. 95/LV Blvd. interchange
6:00-8:00 p.m.             USA Sevens Rugby Parade of Nations
                                    Fremont Street Experience
7:00 p.m.                     VGK vs. Florida Panthers Viewing Party
                                    Downtown Las Vegas Events Center
                                    200 S. 3rd Street
The Ultimate Vegas Sports Weekend is a celebration of the history and growth of sports in Las Vegas. The destination has long been known as the home to large events like the Wrangler National Finals Rodeo, the NBA Summer League, major championship boxing matches, and more. With the addition of major professional franchises, the sports reputation of the city has only increased, making it a bucket list destination for sports fans from around the world.  More information can be found at
www.VisitLasVegas.com/sports
.