Las Vegas Celebrates Chinese New Year
January 28, 2020
Las Vegas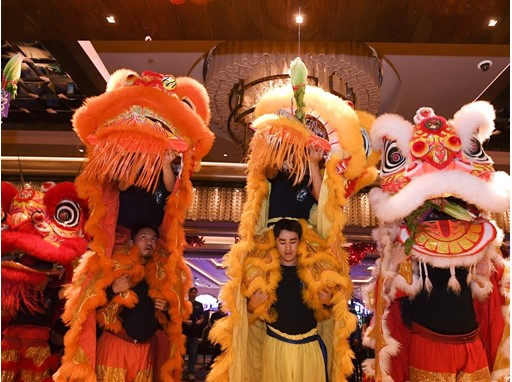 LAS VEGAS – Las Vegas commemorates the Chinese New Year with an array of decadent culinary offerings, breathtaking décor and lively entertainment for visitors throughout January and February. Remembering the significance of the sacred Spring Festival, Las Vegas will extend good fortune and prosperity to all who revel in the destination's cultural festivities.
Décor
Bellagio Conservatory & Botanical Gardens celebrates the Year of the Rat with a captivating Lunar New Year display open from Saturday, Jan. 11 through Saturday, March 7. Designed to bring prosperity and good fortune to the 20,000 visitors who visit daily, the gardens radiate hues of gold and red with picture-perfect botanical creations made from flowers, seeds, silks and plants. The result of collaborative efforts between designer Ed Libby, Bellagio's horticulture team and Feng Shui Master George Yau, the intricate creation is layered with meaningful features honoring The Year of the Rat. The centerpiece of the Conservatory is a gilded gold rat that sits on gold ingot bowls – a symbol of wealth and prosperity – atop a golden staircase. Four golden rats are seen frolicking up the staircase bringing more ingot bowls. Two grand 20-foot gold coin trees stand tall on both sides of the garden symbolizing prosperity.
To commemorate the Year of the Rat, The Venetian and The Palazzo's horticulture team consulted a feng shui master to transform the waterfall atrium with an installation of a colossal 2,000-pound golden rodent sculpture, on display beginning Wednesday, Jan. 15. The featured sculpture stands 18 feet tall and will be surrounded by green gardens brightly blooming with red and orange bromeliads, red calandiva, golden yellow chrysanthemums and red and yellow orchids, shipped from around the country, including citrus and lucky bamboo from Florida. Additionally, nine smaller versions of the rat will be placed throughout the waterfall atrium and the resorts' lobbies.
Entertainment
The Venetian and The Palazzo will offer a variety of entertainment, events and special offers in honor of Lunar New Year, including a Chinese fan dance at noon on Saturday, Jan. 25, on the second level of the Grand Canal Shoppes, followed by the annual eye-dotting ceremony and ceremonial lion dance at 3 p.m. in The Venetian porte cochère. Later that night, Grand Canal Shoppes will host the official Las Vegas opening ceremonies and ribbon cutting for the city's ninth annual CNY in the Desert™ celebration. The event will be held on the second-level North Canal Turnaround at 6 p.m. followed by a traditional lion blessing and dance, cultural performances the Shirley Chen Dance Troupe, and a special appearance by the Shoppes' Love Vespa couple Vespacho and Vespalina. From Thursday, Jan. 23 – Sunday, Jan. 26, visitors can also enjoy four days of live entertainment including the all-new Wishing Tree installation located in the heart of the Shoppes in the Palazzo tower, where more than 200 red envelopes filled with special prizes, from gift cards to chocolate gold coins and more, will be given out at 2 p.m. and 3 p.m. daily except Thursday and Friday, which will be at 5 p.m. Additional activities include a lion dance at The Sky Garden at 6 p.m. nightly; a Chinese drummer parade at 5 p.m. on Saturday and Sunday featuring 10 live drummers, a spectacular lion dance performance, and a Chinese fan dance; and Joey Yung in concert at The Palazzo Ballroom, Saturday, Jan. 25, at 8 p.m. and Sunday, Jan. 26, at 6 p.m. Grand Canal Shoppes will offer a special gift with purchase, Friday, Jan. 17 through Saturday, Feb. 1 from noon to 6 p.m. Guests who spend $350 at stores and restaurants may receive a $50 dining gift card at select restaurants by visiting the pop-up Grand Canal Shoppes concierge location.
In celebration of the Lunar New Year, The Cosmopolitan of Las Vegas will host a dragon and lion dance, beginning at the Las Vegas Boulevard entrance on the first floor of the Boulevard Tower Tuesday, Jan. 28 at 2 p.m.

ABOUT THE LVCVA
The Las Vegas Convention and Visitors Authority (LVCVA) is charged with marketing Southern Nevada as a tourism and convention destination worldwide, and also with operating the Las Vegas Convention Center. With nearly 150,000 hotel rooms in Las Vegas alone and more than 11 million square feet of meeting and exhibit space citywide, the LVCVA's mission centers on attracting ever increasing numbers of leisure and business visitors to the area. For more information, go to www.lvcva.com or  www.visitlasvegas.com.
CONTACTS
Jim Rose

LVCVA

United States

702-892-0711