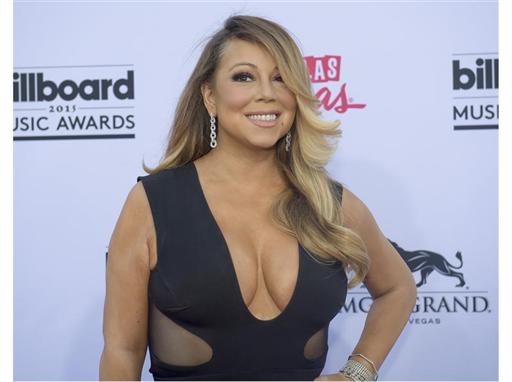 Mariah Carey Begins Residency
Mariah Carey, the iconic chanteuse and best-selling female artist of all time with more than 200 million records sold, recently made her grand entrance to her new home at The Colosseum at Caesars Palace. "Mariah Carey #1 To Infinity," will kick off on May 6 featuring a career-spanning chronological collection of her 18 Billboard Hot 100 #1 singles (17 self-penned), more than any solo artist in history. For more information, contact Kelly Frey, Caesars Entertainment, kfrey@caesars.com.
Lago by Julian Serrano Opens at Bellagio
Before the turn of the millennium, Bellagio altered the landscape of Las Vegas dining when it built world-celebrated chef restaurants overlooking its iconic fountains. The tradition of delivering award-winning, lakeside epicurean experiences continues as it debuts LAGO by Julian Serrano – a contemporary, Milan-inspired Italian restaurant concept. Boasting a new outdoor patio with arguably the most spectacular views of the world-famous fountains, LAGO's cutting-edge space is inspired by Italian Futurism – the sweeping artistic and cultural movement of early 20th century Italy. For more information, contact Ashley Farkas, MGM Resorts International, afarkas@mgmresorts.com.
Las Vegas Premium Outlets North Announces Multi-Million Dollar Expansion Opening This Month
Las Vegas North Premium Outlets will welcome an impressive group of brands starting May 14th when its much-anticipated expansion opens. Thirty-three new retailers and eateries will join the property as part of the 150,000 square-foot expansion project. The added retail space will be home to the first ever Pandora in a value setting. Other exclusive tenants include the West Coast's first Burton Snowboards, Dunhill and Vilebrequin premium outlet locations. The Cheesecake Factory will also be opening its fourth Las Vegas location at the property. For more information, contact Chelsey Allodi, Curator PR, chelsey.allodi@curatorpr.com.
Bellagio Completes Resort-Wide Room and Suite Remodel
Raising the standard in guest service and luxury accommodations yet again, Bellagio recently completed the remodel of the final 403 suites in the resort's main tower. This marks the conclusion of an approximately $165 million remodel that began in 2011 and encompassed all 3,933 of the resort's rooms and suites. Created by the MGM Resorts International Design Group, the Bellagio Tower's redesigned suites offer refined furnishings with high-style surfaces such as lacquer and exotic wood graining as well as sumptuous fabrics influenced by modern fashion. For more information, contact Stacy Hamilton, MGM Resorts International, shamilton@mgmresorts.com.
OMNIA Nightclub Opens at Caesars Palace
OMNIA Nightclub at Caesars Palace opened the doors to the 75,000 square foot, state-of-the-art venue. The multi-level destination encompasses a seductive ultra-lounge, a high energy main club and balcony, as well as a breathtaking outdoor terrace showcasing panoramic views of the Las Vegas strip. The nightclub features a variety of musical talent spanning diverse genres for an all-inclusive nightlife experience. Filled with interactive features and luxurious finishes at every turn, OMNIA sets the stage for patrons who enter our world to discover the unexpected. For more information, contact Stephanie Capellas, Hakkasan Group, scapellas@hakkasan.com.
Radiusº Rooftop Pool & Wet Lounge to Open at Stratosphere Casino, Hotel & Tower
Radiusº Rooftop Pool & Wet Lounge is the perfect balance between relaxing boutique pool and entertaining Las Vegas lounge, uniquely located more than 300 feet above the world famous Las Vegas Strip. Tucked away on the 25th floor of Stratosphere Casino, Hotel & Tower, Radiusº will offer guests an intimate poolside retreat complete with large daybeds, signature drinks and panoramic views of the valley's mountains during the day. When the moon and stars start to shine, Radiusº will reinvent itself into an open air wet lounge with the pool as its centerpiece and the city's neon lights as a stunning backdrop. For more information, contact Mitch Truswell, Red 7 Communications, mitch@red7communications.com.
The LINQ Hotel & Casino Opens Newest Pool on the Las Vegas Strip
The newest addition to the Las Vegas Strip and exclusive to LINQ Hotel & Casino guests 21 and over, The LINQ Pool provides a cooling escape with spectacular views of the High Roller observation wheel and the LINQ Promenade. This center-strip destination features two pools, a 32-seat center bar lined with four plasma televisions and full of signature cocktails, draught beer, frozen drinks and poolside dining options from Nook Express. The main pool boasts a wet deck with lily pad daybeds available for rent, while the second pool is accessed from a standalone elevated deck with tables available for rent as well. For more information, contact Chandra Knee, Caesars Entertainment, cknee@caesars.com.
World Pizza Champion Tony Gemignani Opens Little Tony's at Palace Station
The all-new old-school Italian eatery, Little Tony's by 11-time World Pizza Champion Tony Gemignani, is now open at Palace Station. Paying homage to a classic Italian trattoria and pizzeria with a comfortable modern twist, the restaurant features delectable entrees found in your mother's kitchen along with Gemignani's award-winning pizzas. For more information, contact Lori Nelson, Station Casinos, lori.nelson@stationcasinos.com.
World's Largest Hooters to Open Poolside at Palms Casino Resort
Hooters recently announced a new location is headed to Palms Casino Resort in Las Vegas. The 15,200 square foot space, alongside the Palms Pool, plans to seat more than 500 guests, claiming the title of world's largest Hooters. The poolside bar is slated to open this month, and the two-story main dining room inside Palms will open shortly after. For more information, contact Alex Acuna, Palms Casino Resort, alex.acuna@palms.com.
Graceland Presents ELVIS: The Exhibition – The Show – The Experience Opens at Westgate Las Vegas Resort & Casino
On the 59th anniversary of Elvis Presley's first Las Vegas performance, Graceland opened the doors to a multi-faceted, authentic Elvis experience that showcases the man, the performer and the music that revolutionized popular culture around the world. "Graceland Presents ELVIS: The Exhibition - The Show - The Experience" is now open at Westgate Las Vegas Resort & Casino, the same hotel where Elvis performed more than 600 record-breaking, sold-out shows between 1969 and 1976 when it was the International Hotel and then Las Vegas Hilton. For more information, contact Natalie Mounier, Kirvin Doak Communications, nmounier@kirvindoak.com.
'Welcome' Sign Easier, Safer to Visit Thanks to Traffic Signal, Parking Lot Improvements
The world-famous 'Welcome' sign is now easier and safer to visit thanks to improvements, including new traffic signals to help pedestrians cross Las Vegas Boulevard at the sign. There is also an expanded parking lot at the sign, a traditional stop for tourists at the south end of the Strip. For more information, contact Dan Kulin, Clark County, dkulin@clarkcountynv.gov.
Dives Resume on B-29 Submerged in Lake Mead
The National Park Service issued a permit to Scuba Training and Technology authorizing the company to provide dive tours of B-29 Superfortress Bomber that is submerged within Lake Mead. The plane crashed into Lake Mead July 21, 1948, while engaged in high-altitude atmospheric research. The crew of five survived the crash, but the plane was lost in the depths of the lake. It was discovered by local divers in August 2001. Scuba Training and Technology, which is based in Lake Havasu City, Arizona, is now authorized to provide 100 guided client dives on the B-29 site each year for the next two years. They may also provide unlimited scuba instruction and scuba charter for other locations at Lake Mead National Recreation Area. For more information, contact the National Park Service at (702) 293-8691.
Chef Alex Stratta Opens Tapas by Alex Stratta
Acclaimed celebrity chef Alex Stratta recently celebrated the grand opening of his new restaurant, Tapas by Alex Stratta located in Tivoli Village. The restaurant is a warm and inviting neighborhood experience featuring paella and traditional Spanish tapas. For more information, contact Dawn Britt, One 7 Communications, dawn@one7communications.com.
Blue Man Group Unveiled Behind the Blue, an Onstage Experience
Blue Man Group Las Vegas has recently created Behind the Blue, an enhanced version of the previous onstage experience. The 90-minute tours are now available on Tuesdays, Thursdays and Saturdays. Behind the Blue is the company's most exclusive behind-the-scenes access to date, providing the ultimate sneak peek into the workings of Blue Man Group. During the tour, a crew member will welcome guests on stage, give them a brief history of the award-winning production and allow them to observe pre-set and explore the one-of-a-kind props and instruments. Following, fans will get pre-show action as they sit down for the evening's official sound check. During this time, a crew member will be able to answer questions, as guests get a unique perspective into the amazing world of live theater. For more information, contact Laura Bucklin, Kirvin Doak Communications, lbucklin@kirvindoak.com.
Las Vegas Continues Streak as No. 1 Trade Show Destination
Las Vegas was named the No. 1 trade show destination for the 21st consecutive year, according to the Trade Show News Network's (TSNN) "2014 TSNN Top 250 Trade Shows in the United States" list. Las Vegas hosted 60 of the largest shows held in the country last year, up from the 53 it hosted in 2013. The coveted list by Trade Show News Network represents the largest 250 trade shows held in the country last year, ranked by net square footage. For more information, contact Heidi Hayes, LVCVA, hhayes@lvcva.com.
Downtown Las Vegas' newest restaurant, Glutton, Now Open
A heartfelt passion for savoring life's flavor drives Chef Bradley Manchester. Glutton features an eclectic menu of New American cuisine for lunch and dinner daily. Located on Carson Avenue, across 7th Street from Downtown Container Park, Glutton showcases savory meats, locally sourced produce, house-made pastas and seafood from the Pacific Northwest. Created with an adventurous palate in mind, the cuisine appeals to diners who enjoy trying new things and appreciate fresh, flavorful ingredients. For more information, contact Marina Nicola, Vox Solid Communications, mnicola@wearevoxsolid.com.
Mandalay Bay Convention Center Expansion on Schedule to Open Phase 1 in August
Group business is booming and so is construction on the Mandalay Bay Convention Center expansion, adding 350,000 square feet of exhibit space, more carpeted ballroom space and 900 underground parking spaces for a total of more than 2 million square feet. The foundation has been laid and the underground garage, construction footings and columns all have been completed. The $66 million project is on schedule to welcome its first attendees in August, with the anticipated completion of the entire expansion and renovation in January 2016. For more information, contact Sandy Zanella, MGM Resorts International, zanellas@mgmresorts.com.
Vista Cocktail Lounge to Debut at Caesars Palace
Vista Cocktail Lounge, an upscale, interactive cocktail experience will premiere at Caesars Palace this month, located in the former Shadow Bar location. Owned by Caesars Palace and operated by Hakkasan Group, Vista Cocktail Lounge will be located off the main casino floor, complementing the neighboring Hakkasan Group properties OMNIA Nightclub and Searsucker Restaurant, also within the iconic Las Vegas resort. The experiential cocktail bar and lounge will create a cozy, yet still modern atmosphere combining immersive and hi-tech offerings alongside custom-crafted cocktails. For more information, contact Kelly Frey, Caesars Entertainment, kfrey@caesars.com.
Lazy Dog Restaurant & Bar Now Open in Downtown Summerlin
Lazy Dog Restaurant & Bar, the next generation in upscale casual dining revered for its innovative menu, from-scratch kitchen and well-crafted bar program, opened its first location outside of California in Downtown Summerlin. The Jackson Hole-inspired 9,174 square-foot space boasts lodge-style comfort with playful touches inspired by man's best friend, and features nostalgic dishes infused with innovative global influences. Guests can enjoy a wide variety of menu items from comfort food and inventive pizzas to the "Nutritious and Delicious" items and a wide variety of small plates. To complement the eclectic menu, Lazy Dog's bar program features a variety of hand-crafted cocktails, local brewery picks, house drafts and "Clean Cocktails." The 2,038 square-foot dog-friendly patio provides an excellent dining spot just in time for spring. Both the bar and exterior patio are also outfitted with multiple flat screen televisions to showcase all the sporting action. For more information, contact Michelle Wilmoth, PR Plus, michelle@prpluslv.com.
Itsy Bitsy Ramen and Whisky Opens Downtown
Fremont East Entertainment District in Downtown Las Vegas has welcomed a new resident with Itsy Bitsy: Ramen and Whisky, an intimate Asian restaurant and bar, located at 150 N. Las Vegas Blvd. at the base of The Ogden. Quirky, colorful and full of flavor, Itsy Bitsy combines mixology, art and design. The menu, executed by Executive Chef Ricardo Romo, is simple but satisfying, in offering a blank canvas for patrons to create their own ramen bowl through three steps: 1. "Pick Your Noodle," 2. "Pick Your Broth," and 3: "Choose Your Topping." Plus, Itsy Bitsy offers an array of other selections, including Japanese Wakame seaweed salad, Gyoza dumplings, garlic edamame; an array of hand rolls including Kurobuta sausage and spicy tuna; and design-your-own rice dishes. Itsy Bitsy's dishes will be made with modern techniques and locally-sourced ingredients. For more information, contact Alexa Forshay, Wicked Creative, alexa.forshay@wickedcreative.com.
Shake Shack to Open in Downtown Summerlin
Shake Shack recently announced that it will open a second Las Vegas Shack in Summerlin in 2016. This Shack will be prominently located in the dining arroyo of the new outdoor, residential and office development known as Downtown Summerlin. The Summerlin Shack menu will feature all of the Shake Shack classics from 100% all-natural Angus beef ShackBurgers and griddled-crisp flat-top dogs to our exclusive Brooklyn Brewery ShackMeister Ale and beloved crinkle cut fries. The Summerlin Shack will also boast a selection of rich, creamy and creative frozen custard concretes blended with mix-ins from local Nevada food purveyors. For more information, contact Alissa Kelly, PR Plus, Alissa@prpluslv.com.
Magician Mat Franco to Begin Resident Show at The LINQ Hotel & Casino
Mat Franco, the first magician to win NBC's America's Got Talent, brings his captivating, hold-on-to-your-seat illusions to the heart of the Las Vegas Strip this summer with an all-new resident show at The LINQ Hotel & Casino. The residency will kick off June 24 in a soon-to-be renovated LINQ Theater at the recently reimagined LINQ Hotel. For his first-ever Las Vegas headlining residency, Mat offers a fresh, fun, and feel-good twist on magic that defies all expectations. In a full-scale production built on brand-new, never-before-seen material, the 26-year-old magician delivers his most spectacular performance yet—but still keeps his love of getting up close with the crowd at the heart of every show. For more information, contact Kate Whiteley, Kirvin Doak Communications, kwhiteley@kirvindoak.com.
Shark Reef Aquarium at Mandalay Bay Welcomes Two Hammerhead Sharks
Two new curious creatures are lurking beneath the surface at Shark Reef Aquarium at Mandalay Bay Resort and Casino. The attraction's newest residents, a pair of Scalloped Hammerheads, were recently introduced into the 1.3-million-gallon Shipwreck exhibit. Distinguished by the unusual shape of their heads, Scalloped Hammerheads reside in coastal warm temperate and tropical seas, and can grow up to 14 feet in length, weighing over 300 pounds. Shark Reef Aquarium is one of only three aquariums in the United States that Scalloped Hammerheads call home. For more information, contact Emily Wininger, MGM Resorts International, ewininger@mgmresorts.com.
Andre's Opens Cigar Lounge and Culinary Library
Andre's Cigar Lounge and Culinary Library recently opened for chefs and foodies who revel in spending down time sifting through real cookbooks and recipes rather than flipping through apps. Located on the second floor of Andre's Restaurant & Lounge at Monte Carlo Resort and Casino, this library represents the first of its kind in Las Vegas and will showcase Chef André Rochat's personal collection of cookbooks, amassed over the course of his more than 55 years in the culinary industry. Nearly 700 books will be on display at any given time and available for guests to read. New books will be regularly rotated in from his collection, which include more than 1,000 titles. In addition to the cookbooks, Andre's Cigar Lounge and Culinary Library features a collection of more than 200 single-malt Cognacs, Armagnacs and scotches, as well as premium cigar varieties. The collection is the largest of its kind in Las Vegas and is ranked third in North America based on its size. Already considered a "hidden gem" by those in the hospitality industry, the lounge originally opened in 1996 along with the award-winning, AAA Four Diamond restaurant. For more information, contact Marina Nicola, Vox Solid Communications, mnicola@wearevoxsolid.com.
Downtown Project and the Nature Conservancy Introduce the First Parklet to Las Vegas
Downtown Las Vegas welcomed the city's first parklet, a small public area which allows passersby to relax and enjoy the atmosphere of the city around them. Replacing a single parking space, the parklet was installed last month. Located at the corner of Sixth Street and Carson Avenue, the parklet helps downtown dwellers connect with nature in a new and unique way as well as address the shortage of park space in the flourishing neighborhood. Located in front of the historic John E. Carson building, the parklet was built with recyclable materials and features colorful accents, seating with built-in games and educational information about local wildlife. For more information, contact Devin Aaron, Kirvin Doak Communications, daaron@kirvindoak.com.
McCarran Reopens Runway
Clark County Department of Aviation reopened Runway 7L/25R at McCarran International Airport on the morning of Wednesday, April 22- ahead of schedule and in advance of the peak summer travel season. The runway had been closed to air traffic since late October 2014, when crews began the first phase of a $67 million project to replace the runway's asphalt with more durable concrete. At a length of more than 14,500 feet, Runway 7L/25R is McCarran's longest runway and typically handles one-third of the airport's annual traffic. Phase II of the runway renovation project is slated to begin in late October 2015 and will focus on the resurfacing of the western half of the same runway. It will take an estimated six months to remove the remaining asphalt and then pour new concrete, leading to an anticipated project conclusion in late April/early May 2016. For more information, contact Christine Crews, Clark County Department of Aviation, christinec@mccarran.com.
Flight 23 at Footaction Opens Second Store in the Nation in Las Vegas
Flight 23 at Footaction opened its second location nationwide inside Miracle Mile Shops at Planet Hollywood Resort & Casino. The Miracle Mile Shops location features a Michael Jordan retail experience for those who demand the absolute best in both performance and style. Flight 23 at Footaction's only other store is in New York City. For more information, contact Brad Seidel, Kirvin Doak Communications, bseidel@kirvindoak.com.
PBR Rock Bar & Grill Renovates Patio for the Ultimate Picnic Experience
PBR Rock Bar & Grill's refreshed Strip-side patio will see your average picnic and raise you a wait staff, shade screens, fire pits, HDTVs and top-notch comfort food. With new picnic tables, artificial turf and upgraded lighting, the renovated outdoor space will be the ultimate spot for patio dining and people-watching on the Strip. Newly installed shade screens will help guests keep cool during the hot Las Vegas summer days. For more information, contact Graham McMurry, Kirvin Doak Communications, gmcmurry@kirvindoak.com.
2015 NHL Awards to Be Held at MGM Grand
The NHL Awards will return to Las Vegas this summer at the world-famous MGM Grand Hotel & Casino. The NHL Awards will be held on Wednesday, June 24, at the renowned MGM Grand Garden Arena. It marks the first year that the NHL Awards will be held at the MGM Grand. When the biggest stars from the NHL and hockey fans from around the world descend on the destination, it will mark the seventh year of a successful partnership with Las Vegas and the sixth time the NHL will honor the best hockey players in the world and the top performances of the season in Las Vegas. For more information, contact Katharine Sherrer, MGM Resorts International, ksherrer01@mgmresorts.com.
CONTACTS
Amanda Arentsen

LVCVA

United States

702-892-7658