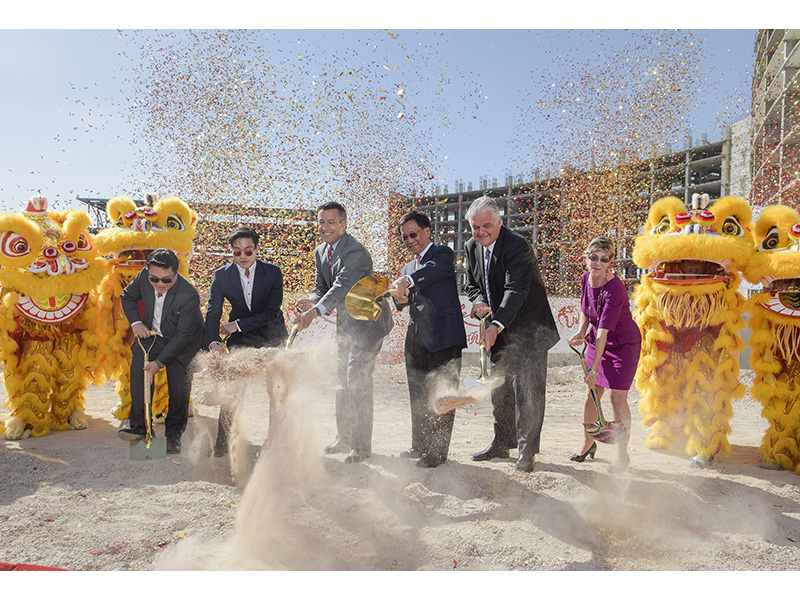 Genting Group Breaks Ground On Resorts World Las Vegas
Genting Group recently broke ground on the Chinese-themed Resorts World Las Vegas (RWLV) -- the first Las Vegas Strip development in nearly a decade. RWLV will include three hotels; multiple restaurants featuring a variety of authentic, regional Asian cuisines; over 100,000 square feet of innovative gaming space; numerous retail offerings; and a top-tier nightlife venue. RWLV is projected to open its doors in mid-2018. For more information, email pr@relasvegas.com.
Global Superstar Jennifer Lopez Lands Headlining Residency At Planet Hollywood Resort & Casino
Confirming rumors that have been circling for months, Planet Hollywood Resort & Casino will soon shine a little brighter with the landing of a new star. Jennifer Lopez recently announced that she will begin a Las Vegas headlining residency as of Jan. 20, 2016. In a spectacular show created just for the Vegas stage, Lopez will bring her star power to the resort's AXIS Theater. For more information, contact Kelly Frey, Caesars Entertainment, kfrey@caesars.com.
For the Record: BAZ, An Evening Inspired by the Films & Soundtracks of Baz Luhrmann Comes to LIGHT at Mandalay Bay
This June, "For The Record: BAZ" is coming to Las Vegas. It's been called "Spectacular" by Los Angeles Magazine, "Cutting Edge" by Entertainment Weekly and heralded as "A unique postmodern cabaret taking the city by storm" by Vanity Fair. Produced by Cirque du Soleil Theatrical specifically for LIGHT Nightclub, "BAZ" is a 360¬degree, completely immersive theatrical concert experience. It is part rock concert, part nightclub and part musical theater blended together to bring audiences into the musical mind of filmmaker Baz Luhrmann. An extension of the already successful programming of LIGHT Nightclub, "BAZ" will run Wednesday through Monday at 8 p.m.. Opening night is scheduled for June 26. For more information, contact Alex Baum, Kirvin Doak Communications, abaum@kirvindoak.com.
Life is Beautiful Festival Announces Lineup
Life is Beautiful Festival recently announced the official artist lineup for the third edition of the music, food, arts and learning festival. In partnership with Another Planet Entertainment and Insomniac, Life is Beautiful will return to downtown Las Vegas to provide festival-goers an exciting experience of world-class cuisine, extraordinary art and some of the world's biggest musicians, Sept. 25 to 27. Headlining this year is 25-time GRAMMY winner and global superstar, Stevie Wonder; Las Vegas hometown rock stars, Imagine Dragons; hip-hop heavyweight, Kendrick Lamar; and music legends, Duran Duran, who are among more than 70 established and emerging artists to hit the four outdoor stages throughout the weekend. New this year, in collaboration with Insomniac, Life is Beautiful will host an entire Insomniac-curated music area, taking over one of the four stages on the festival grounds. World leading and fresh-faced dance music artists on this year's lineup include Thievery Corporation, Porter Robinson, Major Lazor, DJ Snake, Tchami, Cashmere Cat and many more. For more information, contact Tamar Aprahamian, PMK-BNC, tamar.aprahamian@pmkbnc.com.
MGM Resorts, Shochiku and Famed Japanese Actor Ichikawa Somegoro Bring Renowned Kabuki-Inspired Shows to Las Vegas
MGM Resorts International; Shochiku, Japan's premier Kabuki producer and global ambassador; and famed Japanese actor Ichikawa Somegoro have announced a partnership to introduce Japan's traditional entertainment to Las Vegas with the Japan KABUKI Festival. In August 2015, Shochiku will preview a series of live Kabuki performances integrated with the iconic Fountains of Bellagio. The performances will set the stage for the Japan KABUKI Festival debuting the first week of May 2016, a culturally significant and ceremonious time in Japan known as Golden Week. For more information, contact Kate Stowell, Kirvin Doak Communications, kstowell@kirvindoak.com.
Suzanne Somers Debuts Sexy, Sophisticated Cabaret Show at Westgate Las Vegas
Suzanne Somers, one of America's most popular and beloved personalities and for years a top-selling Las Vegas headliner, stepped back onstage to debut a sophisticated nightclub act at the Westgate Las Vegas Resort & Casino. Launched on Saturday, May 23, "SUZANNE Sizzles" will run for a total of 28 weeks through May 2016 in the newly named cabaret venue, "SUZANNE'S" at the Westgate. "SUZANNE Sizzles," a 70-minute show, is performed at 7 p.m. five days a week, dark Sundays and Mondays. For more information, contact Tana Shivers, Preferred Public Relations, tana@preferredpublicrelations.com.
MO5AIC Returns to Las Vegas with New Residency on the Strip
The all-vocal group MO5AIC (Mosaic) returns to Las Vegas with anew show and residency at Bally's Las Vegas. Beginning Friday, June 5, the five-member, a cappella sensation hailed by icon Tony Bennett as "the best vocal group I've ever heard," will perform five nights a week in the Bally's Windows Showroom. MO5AIC performs an all-ages show Thursday through Monday at 9:30 p.m. For more information, contact Michelle Wilmoth, PR Plus, michelle@prpluslv.com.
Bellagio Gallery of Fine Art Presents "Picasso – Creatures and Creativity"
Recognized for bringing world-class art exhibitions to the Las Vegas Strip, Bellagio Gallery of Fine Art (BGFA) will debut "Picasso – Creatures and Creativity" on July 3, 2015, featuring 43 works from one of the 20th century's most influential artists. Organized in partnership with the Claude Picasso Archives, "Picasso – Creatures & Creativity" focuses on Pablo Picasso's favorite theme, the human figure. The exhibition will take guests on a step-by-step journey through the famed artist's thought progression and creative process behind his painting and printmaking. The new exhibit will showcase 19 lithographs, 13 linocuts, 8 paintings and three rare plates, each telling a different story. For more information, contact Brittany Harris, MGM Resorts International, bharris@mgmresorts.com.
New York's Award-Winning Carbone to Make its West Coast Debut at ARIA Resort & Casino
New York's critically acclaimed Carbone restaurant will bring its show-stopping, Italian-American dining experience to the bright lights of Las Vegas when it debuts this fall at ARIA Resort & Casino. The celebrated concept from Mario Carbone, Rich Torrisi and Jeff Zalaznick pays homage to the Italian-American restaurants of the mid-20th century – an era of glamour, showmanship and tableside service. The food is inspired by that same time in history, but takes its culinary cues from the great talents and techniques of today showcasing elevated classics such as Lobster Fra Diavola, Chicken Scarpariello, Veal Parmesan and Octopus Pizzaiolo. For more information, contact Ashley Farkas, MGM Resorts International, afarkas@mgmresorts.com.
Vinyl At Hard Rock Hotel & Casino Launches Three-Month Residency With "America's Got Talent" Season Five Winner Michael Grimm
American soul singer Michael Grimm takes the stage at Vinyl inside Hard Rock Hotel & Casino Las Vegas for a three-month residency June 5 to Aug. 30. Grimm has sold more than 200,000 albums and continues to grow his national and international fan base. His new single, "Starting Over," has hit the No. 1 spot on Amazon.com's Soft Rock chart. After winning season five of "America's Got Talent," he appeared on "The Ellen DeGeneres Show," "TODAY," "Extra" and many other national TV programs. Grimm also performed in the Macy's Thanksgiving Day Parade and has toured with Stevie Nicks, Heart and Bill Medley of the Righteous Brothers. For more information, contact Amanda Brophy, Kirvin Doak Communications, abrophy@kirvindoak.com.
Buffalo's Anchor Bar Bringing the Original Chicken Wing to Vegas
Buffalo institution Anchor Bar is bringing the original Buffalo Chicken Wing to Las Vegas this June. An upstate New York tradition, Anchor Bar is widely credited with inventing America's most beloved bar food, the buffalo wing. Set to open June 15 in the Grand Canal Shoppes at Venetian|Palazzo, Anchor Bar Las Vegas will offer traditional Buffalo Chicken Wings, boneless wings, Buffalo's signature beef on weck, chicken sandwiches, salads, draft beer, wine, and cocktails. Anchor Bar Las Vegas will also feature an exclusive "Anchor Bar" Ice Cream Bar created by local gelato impresario Luciano Pellegrino. For more information, contact Kathryn Palmer, Bread & Butter PR, Kathryn@breadandbutterpr.com.
Downtown Las Vegas to Welcome New American Restaurant 'Therapy'
The revitalization of Downtown Las Vegas and the Fremont East Entertainment District will continue this summer with the introduction of Therapy, serving progressive, yet approachable American cuisine and hand-crafted cocktails with its opening in June at 518 E. Fremont St. between 6th St. and Las Vegas Blvd. The 4,100-square-foot American gastro-lounge will feature an expansive menu for sharing, as well as large plate selections, executed by Executive Chef Daniel Ontiveros. For more information, contact Aleksandra Koryzno, Wicked Creative, Aleksandra.koryzno@wickedcreative.com.
Miracle Mile Shops Expands and Welcomes New Retailers
Miracle Mile Shops at Planet Hollywood Resort & Casino brings Buffalo Wild Wings and Texas Land & Cattle to the Las Vegas Strip as part of the center's Harmon Avenue redevelopment. Set to open this fall, Harmon Avenue is a 60,000 square-foot area on Miracle Mile Shops' south end that is currently being transformed into a restaurant and entertainment destination. The area will feature a completely redesigned look and feel, including an expanded sidewalk and overall streetscaping, as well as multiple new concepts, including wings, beer and live sports headquarters Buffalo Wild Wings (opening this fall) and Texas Land & Cattle (opening late 2015), a Texas steakhouse dining experience with unique grilled creations. In addition to the Harmon Avenue developments, several other stores are opening or expanding elsewhere inside Miracle Mile Shops. These include: Flight 23 at Footaction, Fooraction, U.S. Polo Assn., Oakley and Victoria's Secret. For more information, contact Wendy Sloan, Kirvin Doak Communications, wsloan@kirvindoak.com.
Las Vegas Restaurant Week Returns June 15-26
Las Vegas Restaurant Week is back. Spanning 12 days, June 15 to26, locals and those visiting Las Vegas are invited to explore the more than 140 restaurants anticipated to participate in the citywide culinary event. Restaurants joining in Las Vegas Restaurant Week will create their own prix-fixe, delicious menu offered at price points ranging from $20.15 to $50.15, with a fixed portion of the proceeds – $4, $5, or $6 – benefitting Three Square and the fight against hunger in Southern Nevada. For more information, contact Brita Voris, Three Square food Bank, bvoris@threesquare.org.
Waterfall Atrium and Gardens Transform into a Celebration of Carnivale di Venezia
To celebrate the summer months, the floral and horticulture teams at The Venetian and The Palazzo Las Vegas will embark on creating a spectacular floral installation that is the first of its kind at The Palazzo. The new display, which can be seen through Sept. 1, was inspired by an image of a traditionally-dressed Venetian woman during the celebration of Carnivale di Venezia, a festival known for its elaborate dresses and decorative masks. From inception to completion, the project has taken about two years to complete. Hundreds of hours went into design and art direction, with the computer model alone taking three months to build. The focal point of the installations in the Waterfall Atrium and Gardens and in The Palazzo Lobby will be Venetian women topiaries that will stand approximately nine feet tall. For more information, contact Keith Salwoski, The Venetian, Keith.salwoski@sands.com.
VISTA Cocktail Lounge Now Open at Caesars Palace
VISTA Cocktail Lounge, an upscale, interactive cocktail experience, is now open in the former Shadow Bar location within Caesars Palace. VISTA welcomes guests to experience the lounge featuring world-class mixologists and state-of-the-art LED technology. The experiential cocktail bar and lounge creates a cozy, modern atmosphere combining immersive and hi-tech offerings alongside custom-crafted cocktails for patrons from around the globe. Guests can enjoy a selection of infused drinks, including the Pineapple Mule, shareable punchbowl creations, seasonal sangrias, craft beers, wines-by-the-glass or VISTA's specialty cocktails, including the indulgent Honey Ryder featuring Malibu Coconut Rum, Kahlua, Baileys and club soda or the refreshing Del Toro mixed with Patron Silver Tequila, Chambord, fresh pineapple and lime, each hand-crafted by in-house master mixologists. For more information, contact Talia Rothman, Caesars Entertainemt, trothman@caesars.com.
Town Square Las Vegas Welcomes Multiple New Shopping & Dining Experiences to the Center
Town Square Las Vegas, a 93-acre open-air shopping center on the south end of the Las Vegas Strip, is expanding its tenant mix with the opening of three new restaurants later this year. The three new dining experiences opening in 2015 include Killer Shrimp, NĒCHE, and Adobe Gilas. In addition, Town Square recently welcomed several additions to its eclectic shopping and dining mix, including Saks Fifth Avenue OFF 5TH, Foreign Exchange, Galleria Arte Fino, and Kona Ice. For more information, contact Devin Aaron, Kirvin Doak Communications, daaron@kirvindoak.com.
Fremont Street Experience Rock of Vegas Summer Concert Series Announces Lineup
Fremont Street Experience Rock of Vegas concert series recently announced the lineup for the summer that will turn the legendary downtown venue into summer's alternative destination. Celebrating its seventh anniversary, the free concerts have become one of the most popular summertime events in Las Vegas. The concert series kicked off Memorial Day Weekend with KC and The Sunshine Band and runs through Labor Day Weekend with performances by Kansas and Blue Oyster Cult. Other performance include: Martha Davis and The Motels, The Tubes & The Smithereens; Smash Mouth & Toad the Wet Sprocket; Theory of a Deadman; Spin Doctors & Cherry Poppin' Daddies; and Kansas & Blue Oyster Cult. For more information, contact Lauren Silverstein, Preferred Public Relations, lauren@preferredpublicrelations.com.
Delano Beach Club Now Open for 2015 Las Vegas Pool Season
Delano Las Vegas' Delano Beach Club is now open, introducing a new pool experience that effortlessly fuses sophistication, style and service within a South Beach-inspired paradise. Exclusive to Delano guests, Delano Beach Club envelops sunbathers in a palette of contemporary whites, accented with vibrant hues of teal and cobalt, extending the hotel's distinct design to the great outdoors. Guests can also experience VIP cabanas, indie artists and DJs, refreshing treats, classic cocktails, craft beers, and more surprises around every corner. For more information, contact Natalie Mounier, Kirvin Doak Communications, nmounier@kirvindoak.com.
Sky Suites at ARIA Introduces Private Luxury Pool
Setting a new standard for poolside pampering, Sky Suites at ARIA Resort & Casino unveils Sky Pool, an upscale exclusive pool specially designed for discerning guests. The oasis elevates the luxury pool experience with personalized services such as a private guest entrance, complimentary refreshments, luxurious amenities and more. For more information, contact Dara Cohen, MGM Resorts International, dcohen@mgmresorts.com.
CONTACTS
Amanda Arentsen

LVCVA

United States

702-892-7658
MORE FROM NEWS RELEASES
SUBSCRIBE TO RSS FEED
XML