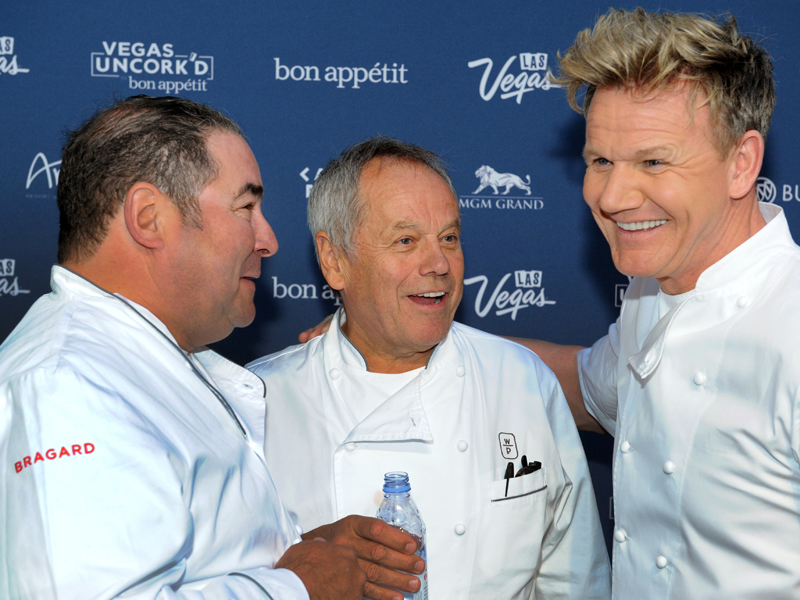 Vegas Uncork'd by Bon Appetit Announced 10 New Events for the April 23-26 Festival
Vegas Uncork'd by Bon Appétit, presented by Chase Sapphire Preferred®, added Emeril Lagasse along with 10 new events to the ninth annual star-studded culinary weekend. Events will take place at ARIA Las Vegas, Bellagio, Caesars Palace and MGM Grand. Tickets are on sale for all weekend events. Visit www.vegasuncorked.com for the complete event schedule. For more information, contact Tom Dietz, R&R Partners, Tom.Dietz@rrpartners.com or Allee Bennett, Kirvin Doak Communications, ABennett@kirvindoak.com

Mariah Carey Announced Headlining Residency at The Colosseum at Caesars Palace
Mariah Carey, the iconic chanteuse and best-selling female artist of all time with over 200 million records sold, is coming to Las Vegas with a headlining residency at The Colosseum at Caesars Palace. For the first time ever, she will perform all 18 of her timeless and beloved Number One Hits together in one concert. Designed exclusively for The Colosseum, the production will also feature fan-favorite album cuts, never-before-performed selections and many more musical surprises. Presented jointly by AEG Live and Caesars Palace, the residency launches Wednesday, May 6, 2015. Tickets to the first 18 performances in 2015 are on-sale now. For more information, contact Kelly Frey, Caesars Palace, kfrey@caesars.com.
Journey Residency Announced at The Joint at Hard Rock Hotel & Casino

Legendary rock band Journey makes its way to The Joint inside Hard Rock Hotel & Casino for a nine-show residency, Journey Las Vegas, from Wednesday, April 29 to Saturday, May 16. Tickets are now on sale. For more information, contact Amanda Brophy or Laura Bucklin, Kirvin Doak Communications, abrophy@kirvindoak.com or lbucklin@kirvindoak.com.
Expansion of Tropicana Las Vegas Convention Facilities to Include State-of-the-Art-WiFi Services

The New Tropicana Las Vegas - a DoubleTree by Hilton, announced the deployment of new Wi-Fi technology, including wired and wireless Internet access beginning March 2015. The internet access will be available throughout the property's approximate 100,000 square feet of convention space, including the new Trinidad Pavilion, slated for completion in March 2015, as well as in the resort's 1,467 guest rooms and suites. Once complete, the resort will provide one of the fastest internet services available in a Las Vegas hotel. For more information, contact pr@TropLv.com.
AEG Live and The Venetian Las Vegas Announced The Essential Diana Ross: Some Memories Never Fade

AEG Live and The Venetian Las Vegas announced a special nine-show engagement at The Venetian Theatre with world-renowned legend Diana Ross. The Essential Diana Ross: Some Memories Never Fade will begin April 1, 2015. Tickets are now on sale. Diana Ross' famed and remarkable career spans almost five decades. The legendary singer will perform nine show dates: April 1, 3, 4, 8, 10, 11, 15, 17, and 18. For more information, contact Suzanne Richardson, AEG Live, srichardson@aeglive.com.
Omnia Nightclub at Caesars Palace Unveiled Electronic Talent Roster for Spring Opening

Omnia Nightclub announced the first set of artists from its electronic music lineup featuring some of the world's top DJ sensations. The multi-faceted nightlife experience, scheduled to open its doors on March 12 at Caesars Palace, unveiled a star-studded list of artists to add to its opulent and highly anticipated offerings. Headliners of the new nightlife destination include globally coveted DJs such as Afrojack, Armin Van Buuren, Chuckie, Martin Garrix, Oliver Heldens, Krewella, Nervo, Nicky Romero and Showtek. The impressive roster will take over the main club night after night as they usher in a schedule of high-energy performances on the Las Vegas Strip. For more information, contact Stephanie Capellas or Kristina Bello, Hakkasan Group, scapellas@hakkasan.com or kbello@hakkasan.com.
The Cosmopolitan of Las Vegas Unveils 2015 Artist –Residence Lineup at P3Studio

The Cosmopolitan of Las Vegas continues to evolve its acclaimed artist-in-residence program with 14 artists confirmed for 2015. P3Studio gives guests the unique opportunity to watch international and local artists at work and to engage with them while experiencing immersive art installations. The P3Studio artist-in-residence program at The Cosmopolitan enables artists to create projects that are interactive and participatory, giving guests the opportunity to connect at an authentic and personal level. Developed and curated by the resort in partnership with Art Production Fund, a non-profit organization dedicated to producing ambitious public art projects, the initiative strives to reach new audiences and expand awareness through contemporary art. The 2015 lineup includes: Lia Chavez (Jan. 7 through Feb. 8), David Colman (Feb. 11 through March 8), Lucky DeBellevue (March 11 through April 12), Stephanie Hirsch (April 15 through May 10), Gabrielle St. Evensen (May 13 through June 7), Amy Gartrell and Patterson Beckwith (June 10 through July 12), Thomas Willis (July 15 through Aug. 9)Brent Sommerhauser (Aug. 12 thought Sept. 13), Shantell Martin (Sept. 16 through Oct. 11), Jesse Smigel (Oct. 14 through Nov. 8), Mikayla Whitmore (Nov. 11 through Dec. 6) and Kate Gilmore and Franklin Evans (Dec. 9 though Jan. 3). For more information, contact Renata Follman, pr@thecosmopolitan or Wendy Sloan, thecosmopolitan@kirvindoak.com.
Itsy Bitsy: Ramen and Whisky to Open This Spring in Downtown Las Vegas

Fremont East Entertainment District in Downtown Las Vegas will soon welcome a new resident with Itsy Bitsy: Ramen and Whisky, an intimate Asian restaurant and bar opening this spring at 150 N. Las Vegas Blvd. at the base of The Ogden. Itsy Bitsy is born from a dynamic partnership between Corner Bar Management Group, the company behind Park on Fremont, Commonwealth, BLVD. Cocktail Company, Due & Proper and Whist Stove & Spirits; Martin Koleff, the celebrated restaurateur behind Aburiya Raku, Sweets Raku, Kyara Japanese Tapas, Trattoria Nakamura-ya, Café de Japon, Goyemon Sushi House, and more; DJ Five, one of Las Vegas' top DJs; and Downtown Project. For more information, contact Lauren Cahlan or Katie Strickland, Wicked Creative, Lauren.Cahlan@wickedcreative.com or Katie.Strickland@wickedcreative.com.
The Mob Museum Celebrates Third Anniversary with Free Local Admission Feb. 14

On Saturday, Feb. 14, locals can enjoy free admission and out-of-town, visitors receive buy-one, get-one admission. Guests are invited to make a $3 donation in honor of the Museum's third birthday. The $3 donation will go toward supporting The Mob Museum, a nonprofit 501(c)3 organization, and its efforts to provide educational programming throughout the year. In addition, two Thompson machine guns used in the St. Valentine's Day Massacre in 1929 will be on display Saturday, Feb. 14 and Sunday, Feb. 15. For more information, contact Erika Pope, Vox Solid Communications, epope@wearevoxsolid.com.
Joey Fatone Joins Cast of ROCK OF AGES for a Limited Engagement at The Venetian Las Vegas

N'SYNC band member, Joey Fatone joins the ROCK OF AGES cast for a limited engagement as legendary Bourbon Room owner, Dennis Dupree, beginning Friday, Feb. 20 at The Venetian Las Vegas. This marks Fatone's return to the theatrical stage after more than a decade. Fatone made his Broadway debut as "Mark Cohen" in RENT in 2002 and also performed the role of "Seymour" in LITTLE SHOP OF HORRORS in 2004. For more information, contact Erica Benken, Kirvin Doak Communications, ebenken@kirvindoak.com.
Menopause The Musical Moves To Harrah's Las Vegas

Menopause the Musical® has delighted Las Vegas audiences for nine years. Now with 3,625 performances under its belt, the show from award-winning GFour Productions that launched a women's movement will debut in the heart of the city inside The Improv at Harrah's Las Vegas with preview performances starting Wednesday, Feb. 3 and a grand opening Friday, Feb. 20. New show times, along with an expanded stage, upgraded sound and lighting, as well as a fresh set and costumes, highlight the new production's intimate setting. For more information, contact Maggie Rubenstein or Sheena Martin, Magnetic Public Relations, Maggie@magneticpublicrelations.com or Sheena.Martin@magneticpublicrelations.com.
REBA, BROOKS & DUNN: Together in Vegas Add Week of Performances to Residency

On the heels of announcing their Las Vegas residency at The Colosseum at Caesars Palace, Reba, Kix Brooks and Ronnie Dunn have already sold out three performances of REBA, BROOKS & DUNN: Together in Vegas and are adding three more June shows. Presented jointly by Caesars Palace and AEG Live, the residency will now open on June 17, 2015, one week earlier than planned. The newly added dates are: June 17, 19, 20. Tickets are on-sale now. For more information, contact Kelly Frey, Caesars Palace, kfrey@caesars.com
CONTACTS
Amanda Arentsen

LVCVA

United States

702-892-7658
MORE FROM NEWS RELEASES
SUBSCRIBE TO RSS FEED
XML