Las Vegas Green Initiatives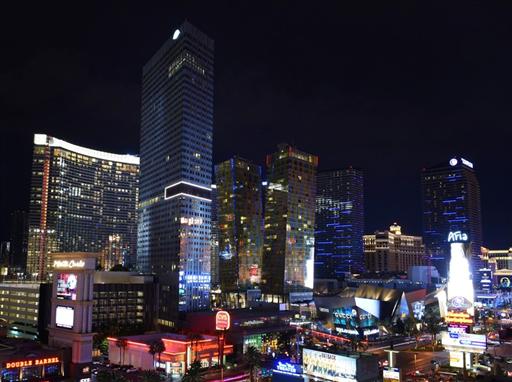 In recent years, Las Vegas resorts have turned their attention and focused their efforts on becoming more environmentally conscious. From energy efficiency and water conservation to recycling and implementing greener practices, Las Vegas is doing its part to contribute to the sustainability of the planet.
But it isn't just the resort community "going green." Las Vegas restaurants, convention centers, transportation companies, wedding planners, and several other local businesses are supporting green initiatives and making substantial changes in the way they operate.
Several Las Vegas projects have achieved LEED (Leadership in Energy and Environmental Design) certification by the U.S. Green Building Council. The process includes independent, third-party verification that a development's design, construction and performance meet accepted high standards for environmentally-responsible, sustainable development. Only three percent of all U.S. building projects qualify for the certified, silver, gold or platinum designations.
Here are just a few examples of how Las Vegas is "going green":
Resorts
Boyd Gaming (Sam's Town, Suncoast, The Orleans, Gold Coast, California, Fremont Hotel, Main Street Station) is committed to protecting the environment and pursuing sustainable business practices. The corporation strives to conserve energy in a number of ways including the use of solar water holding tanks, CFL light bulbs, and air heat recovery systems. In addition, various properties have programs in place to recycle everything from cardboard, aluminum and glass to food, grease and oil.
FAST FACTS:
Boyd Gaming:
Opened an environmentally-friendly laundry facility that services all of its Las Vegas properties
The laundry facility is the first in the country to receive LEED Silver certification and an award from the American Lung Association of Nevada for environmentally-friendly practices
The facility handles about 60,000 pounds of laundry per day and uses 75 percent less water than a typical laundry facility of its size, saving 22 million gallons of water per year. It also uses 27 percent less electricity and 47 percent less gas
In 2014, Orleans Arena became Nevada's first LEED Gold arena
Has reduced annual elective consumption by more than 20 million kilowatt-hours since 2010; reduced natural gas usage by more than 67 million cubic feet; kept more than 19,000 tons of CO2 from being released into the atmosphere (per the CSR released in 2014.)
Wynn Las Vegas and Encore are Gold LEED (Leadership in Energy and Environmental Design) equivalent resorts, a designation given by the U.S. Green Building Council, which established a rating system for the design, construction, operation and maintenance of green buildings. To achieve LEED equivalency, Wynn and Encore have continued to install more efficient plumbing fixtures and energy-saving devices, established sustainability procedures to enhance operations, and modified purchasing practices to favor goods with recycled content.
FAST FACTS:
Wynn Las Vegas and Encore:
Uses energy efficient HVAC equipment, pumps, motors and light fixtures
Has an aggressive recycling program including food waste that has resulted in more than 2,800 tons of waste being diverted from the landfill in 2014
Utilizes non-potable well water for irrigation of resort landscaping and the golf course and uses synthetic grass and low water consuming plant and trees
Have incorporated more than five acres of artificial turf across the resort, saving 15 million gallons of water annually
Has energy-efficient lighting in many areas, and has implemented motion sensors and automatic timers in offices and meeting spaces
Since 2011, Wynn's effort in collecting soaps and bottled amenities in collaboration with Clean the World, has helped distribute more than 500,000 bars of soap worldwide
Uses energy-efficient products and other load-reducing measures resulted in Wynn reducing its electrical consumption by more than 18 million kilowatt hours—the equivalent of what is needed to power approximately 1,623 homes a year
The 18-hole Wynn Golf Course, located directly behind Wynn and Encore, is designated as an Audubon Cooperative Sanctuary, an award-winning education and certification program that helps golf courses protect our environment by enhancing the valuable natural areas and wildlife habitats that golf courses provide
Caesars Entertainment (Caesars Palace, Harrah's, Flamingo, Bally's, The LINQ, The Cromwell, Paris Las Vegas, Planet Hollywood Resort & Casino, Rio All-Suite Hotel & Casino) has invested $70 million on energy conservation projects since 2004, delivering energy savings of nearly 24 million kilowatt hours per year and cutting its carbon emissions by more than 143,500 metric tons. Caesars Entertainment has won seven gold and one silver accreditation Travelife Sustainability in Las Vegas; won the EPA's Climate Leadership Award for Excellence in Greenhouse Gas Management and WasterWise New Partner awards; and has the most Green Key Eco-Rated properties – eight in Las Vegas - of any gaming company in the U.S.
FAST FACTS:
Caesars Entertainment:
Offers the industry's only Responsible Meetings Certified Meeting Professional program (previously Green Meetings) as economic, social and environmental sustainability are baked into every meeting
Contributes more than $1 million* a week in communities in which we operate and nearly 200,000 employee HERO volunteer program hours a year
Clean the World: Provided seed monies and to date over $500,000 from the Caesars Foundation to build a Las Vegas soap recycling center to service the hospitality industry in the western united states. Caesars 31 hotel properties across North America have collected over 1.3 million bars of discarded soaps and shampoos over the last few years
Achieved 12.6 percent absolute reduction in greenhouse gas emissions for U.S. resorts, surpassing 2013 short term goal and on track to meet 40 percent reduction target for 2025
Reduced water use intensity by 18% since 2008 levels, saving 430 million gallons of water and approximately $1.5 million in water costs
Recycles 320,000 gallons of waste vegetable cooking oil per year
Diverts nearly 90 million pounds of waste from landfills
Installed over 12,000 digital thermostats with integrated occupancy sensors to automatically control temperatures in guestrooms
Deployed over 100,000 high-efficiency LED light bulbs and installed occupancy control sensors
Installed 10,000 low-flow showerheads and aerators to help reduce the energy involved in heating and cooling water
Guests staying at 13 resorts in Nevada and Southern California can conveniently use the environmentally friendly amenity, Electric Vehicle (EV) charging stations at no additional cost
Las Vegas Sands Corporation (The Venetian, The Palazzo) achieved Gold LEED certification for existing buildings at The Venetian and Sands Expo and Convention Center. The Palazzo achieved Silver LEED certification for new construction in 2008. When combined, The Venetian, The Palazzo and Sands Expo comprise one of the largest LEED building in the world. The Congress Center and Sands Expo Convention Center was the first venue in the world to achieve APEX/ASTM Level 2 certification for Green Meetings.
As part of the Sands ECO360 Global Sustainable Development Program, the company oversees construction and development strategy, operational and maintenance policies, development of vendor partners in compliance with green policies, and involvement of employee team members.
FAST FACTS:
Las Vegas Sands Corporation:
The company is ranked #18 on the Newsweek Green Ranking 500 in the US.
The Venetian and The Palazzo are TripAdvisor Gold Level Green Leaders
Saves nearly 100 million gallons of potable water per year through innovative technologies utilized on campus
Have saved enough electricity to power more than 6,500 average American homes annually
Recycles 55 percent of daily trash and 75 percent of food waste. Awarded Best Recycling Program by the Las Vegas Business Press (2013)
Utilizes one of the largest solar thermal system in the United States, which provides hot water for pools, spas and domestic uses
In constructing The Palazzo, used steel with 95 percent recycled content and diverted 42,000 tons of refuse from landfills
M Resort, Spa and Casino is committed to environmental responsibility and energy conservation and took this into consideration when constructing the resort, which debuted in March 2009. Alternative transportation was also taken into consideration by providing bike storage, preferred employee parking for alternative fuel vehicles and adequate public parking with more than 50 percent under cover.
FAST FACTS:
M Resort, Spa and Casino:
Took into account building orientation during construction. The tower faces north and south, reducing the impact of direct east/west sunlight
Utilizes natural lighting via skylights to reduce the lighting requirements and where needed has implemented energy-efficient lighting fixtures
Installed water efficient plumbing fixtures that reduce water usage
Put a recycling system in place property-wide
MGM Resorts International (Bellagio, ARIA Vdara, MGM Grand, The Signature at MGM Grand, Mandalay Bay, Delano Las Vegas, The Mirage, Monte Carlo, New York-New York, Luxor, Excalibur, Circus Circus) is committed to being a global leader in sustainability and stewardship of the environment, bringing value to communities and shareholders alike. The company's Corporate Sustainability Division works strategically to green the company's business by lowering the carbon footprint of its operations, including its resorts, restaurants, retail spaces, meetings and conventions. Every MGM Resorts International property in Las Vegas also has a "Green Team" responsible for developing a strategic plan for sustainability.
Fifteen MGM Resorts properties have received a green key designation by The Green Key Eco-Rating Program, a ranking service based on hotels' sustainability efforts and recognized by such travel services as AAA, Travelocity and Expedia. Bellagio, ARIA, Vdara and Mandalay Bay and earned a Five-Key rating, an elite certification granted to less than two percent of Green Key's 2,500 participating properties.
MGM Resorts International is a 2014 recipient of the Galaxy Star award from the Alliance to Save Energy, and is named among Newsweek Magazine's 100 most environmentally responsible companies in the United States. The company recently installed the world's largest rooftop solar array on a convention center at Mandalay Bay, which stretches 20 acres and produces enough electricity to power the 1,000 U.S. homes annually.
FAST FACTS:
MGM Resorts International:
6 LEED Gold Certifications

15 properties recognized by Green Key and TripAdvisors' GreenLeaders

47% recycling rate, recycling 56,000 tons

1.3M lights to be converted to LED

6.4 megawatt solar array installed on the Mandalay Bay Convention Center.

World's first fleet of stretch limos powered by clean-burning, compressed natural gas

213M kWh of electricity saved in the past five years

Achieved a 3.4% reduction in energy intensity in 2014

Installed 28 electric vehicle charging stations across MGM Resorts properties

21M gallons of water saved in 2014

First energy generation on the Strip through an 8.5 megawatt, natural gas co-generation plant. Providing efficient electricity on site, the plant reduces emissions and uses "waste heat" to provide all domestic hot water at Aria, including its pools
CityCenter (Mandarin Oriental, ARIA Resort & Casino, Vdara, The Shops at Crystals, Veer Towers) has achieved Gold LEED certification for ARIA's hotel tower, convention center and theater, Vdara Hotel & Spa, Mandarin Oriental, Veer Towers and Crystals. This marks the highest LEED achievement of any hotel, retail district or residential development in Las Vegas. It is also the world's largest private green development. The Forest Stewardship Council-US honored CityCenter as the best commercial project of 2009 with FSC Awards.
Restaurants
Rick Moonen's RM Seafood at Mandalay Bay has installed the KeyKeg wine delivery system to further aid its green movement. This revolutionary one-way wine keg, developed by Master Sommelier William Sherer, is made of recycled plastics and is continuously sanitized and reused by the restaurant, eliminating both waste and fuel that would be used to return the keg to be refilled. As the wine keg is recycled, this allows for less demand on the environment to produce glass bottles, corks, paper labels and wine boxes - as just one keg of wine represents 26 bottles of wine.
LBS: A Burger Joint (Red Rock Resort) offers fresh, non-frozen or pre-packaged, all-natural veggie burgers with more than 26 farm-fresh ingredients. Premiere Meat Company supplies LBS with meat from naturally raised cattle without any growth hormones, antibiotics or chemicals. The cooking oil is recycled into bio diesel fuel via the waste deposit company, RENU that processes approximately 150 gallons of cooking oil into diesel per month. LBS is also one of the only restaurants in Las Vegas to use Heinz Organic Ketchup on the table top.
Weddings
JW Marriott Las Vegas Resort & Spa has created a wedding package that is considerate to the planet by offering a variety of organic and recyclable options. Eco-Chic package elements include outdoor ceremonies on the resort grounds among beautifully designed gardens and waterscapes; receptions featuring Botela linens made from recycled glass or luxury burlap and Chiavari chairs made from bamboo; soy candles; organic or living floral designs; menus and place cards made from recycled card stock and soy ink; and culinary selections offering local, organic and free-trade ingredients.
Transportation
Las Vegas Monorail offers an electric, zero-emissions transportation system as an alternative to automobiles and mass transit. In 2009, visitors who rode the monorail aided in the removal of an estimated 2.7 million vehicle miles from southern Nevada's major roadways, reducing emissions by more than 48 tons of carbon monoxide, volatile organic compounds and nitrogen oxides over the course of the year.
Regional Transportation Commission of Southern Nevada (RTC) offers Club Ride Commuter Services, a free program that promotes cleaner, greener modes for getting to work. The program currently boasts more than 280 employer partners and more than 26,000 employee participants, encouraging transit, carpooling, walking, cycling, telework and compressed work weeks, rather than driving alone. The result has been 5.8 million fewer miles driven on southern Nevada roadways in 2014. The RTC operates one of the newest fleets of buses in the nation including compressed natural gas-fueled vehicles and hybrid electric vehicles. The RTC operates 39 transit routes, nearly 400 fixed-route transit buses and has more than 3,200 bus stops. Part of the RTC's sustainability initiative is promoting bicycling as a viable mobility choice. There are more than 403 miles of shared-use paths and more than 50,000 bicycles are carried on the RTC transit system per month. For more information, visit rtcsnv.com.
Maverick Helicopters is the only helicopter operator in Las Vegas and the world to have switched out its entire fleet to the quietest and most eco-friendly helicopter available for the tour industry. The company sold all of their old helicopters and acquired 22 eco Star helicopters instead.
Developments
Las Vegas Springs Preserve is a green-friendly attraction that teaches visitors about the environment and the importance of conservation. Springs Preserve incorporates museums, interactive exhibits, botanical gardens and trails, and showcases working green building designs and other examples of environmentally-friendly construction. Seven buildings on the property have achieved Platinum LEED certification and make use of straw bale insulation and rammed earth. To put that into perspective, there are only 13 Platinum certified buildings in the entire United States.
Symphony Park is a public-private development between the city of Las Vegas and Newland Communities. Home to The Smith Center complex, Symphony Park was the only project in the state of Nevada to be accepted into a national pilot program for green neighborhood developments and was awarded Gold LEED certification. It also embodies the essence of land recycling by transforming a fallow brownfield site into a vibrant community.
World Market Center Las Vegas makes it a priority to make environmentally conscious decisions in its own business operations and advocates for the entire trade show industry to do so. World Market Center is currently in line to become the largest on-site recycling center in southern Nevada, by recycling more than 70 percent of all refuse generated from the giant home furnishings complex. In one six-week period, World Market Center recycled a total of 136 tons of cardboard alone, 24 tons of Styrofoam and 106 tons of plastic.
The Vegas PBS Educational Technology Campus (ETC) is a model for sustainability and green building practices in the southwestern United States. The eco-friendly building is home to Vegas PBS' operations and production services in addition to its emergency alert efforts. The campus showcases a variety of green technologies including the largest rooftop installation of solar-voltaic panels in the state of Nevada and a geothermal/ground source heat pump cooling system that uses 202 wells that average 425 feet deep. Other green elements include lead-free and recyclable electronics, concrete rather than traditional asphalt parking lots, furnishings that dramatically reduce off-gassing of toxic chemicals and agriculturally-based floor coverings.
ACCIONA's Nevada Solar One is an environmentally friendly, renewable utility-scale power solution that creates power with near-zero carbon emissions. The 400-acre, 64-megawatt plant harnesses solar energy to power more than 14,000 homes every year. It is the third-largest concentrating solar power plant in the world and the first such plant built in 17 years. Nevada Solar One represents a major renewable energy success story and has the potential to compete directly with conventional fossil fuel-powered technologies. The plant is located in Boulder City, Nev.
Convention Center
In tandem with industry trends, customer expectations, and social responsibility, the Las Vegas Convention and Visitors Authority (LVCVA) has made significant inroads toward improving its role in sustainable operations, environmental impacts, and energy conservation.
The Las Vegas Convention Center is a member of the Environmental Protection Agency's WasteWise Program with a primary objective of diverting recyclable materials away from landfills. The Las Vegas Convention Center currently averages a 65 percent recycling rate for all shows, recovering on average 431 tons of cardboard, 302 tons of plastic, 132 tons of carpet padding, 173 tons of mixed paper, 130 tons of various metals and 205 tons of wood annually. Environmentally-friendly cleaning products have replaced more than 30,000 gallons of traditional chemicals. Likewise, Cashman Center has recently achieved a 65 percent annual recycling rate and, through a revised landscaping plan of grass reduction, has conserved more than six million gallons of water over the past two years. Cashman Center diverted more than 22 tons of recyclable materials from the landfill over the past year.
The LVCVA will continue to invest in key areas that improve efficiency and conservation directly related to future energy consumption. Targeted tactics include converting to energy-efficient lighting, motion sensors to control lighting levels in unoccupied rooms, and temperature sensors to turn off air conditioning or heating in empty meeting rooms and exhibit halls.
Outdoor Recreation
Black Canyon/Willow Beach River Adventures hosts an annual ecology drive and shoreline clean-up event. This special initiative has helped remove 22,640 pounds of garbage from Lake Mohave, located less than an hour from the Las Vegas Strip. The River Adventures are certified to environmental standards set by the International Organization for Standardization. Through 2009, more than 32 tons of waste were diverted from landfills through a comprehensive recycling program.
Forever Resorts Houseboats used on Lake Mead are manufactured to contain green features such as energy-efficient lighting throughout, zero water discharge into the surrounding body of water, carbon monoxide reduction through the use of the most fuel-efficient engines available in the marine industry, solar-enhanced electric systems and low-flow water fixtures throughout.
CONTACTS
Amanda Arentsen

LVCVA

United States

702-892-7658
MORE FROM MEDIA RESOURCES
SUBSCRIBE TO RSS FEED
XML