September 15, 2015
Las Vegas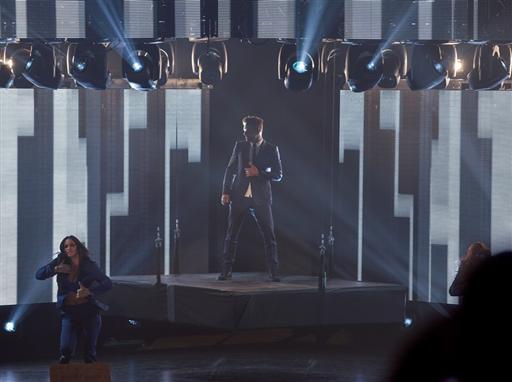 LAS VEGAS -- Three musical megastars took to Las Vegas stages Wednesday evening, as the entertainment line-up for Mexican Independence week showed no signs of slowing down.
Grammy Award-winner Ricky Martin chose Las Vegas to launch his "One World" tour in support of his new album "A Quien Quiera Escuchar" at The Axis at Planet Hollywood Resort and Casino. Alejandro Fernandez brought his "Confidencias World Tour" to Mandalay Bay Events Center, where he paid homage to Mexico with his mariachi, orchestra and vocal prowess. And at The Colosseum at Caesars Palace, the world-renowned Placido Domingo delivered a performance showcasing his multi-faceted artistry.
On Monday, Pepe Aguilar kept the momentum going in Las Vegas with a powerful performance at The Axis Theater at Planet Hollywood Resort & Casino. Son of recording legends Flor Silvestre and Antonio Aguilar, Pepe Aguilar is a four-time Grammy Award and three-time Latin Grammy Award winning artist, and has has sold over 13 million albums worldwide. Among his biggest albums are "Por Mujeres Como Tu," "No Soy de Nadie," "Historias de Mi Terra" and "Por una Mujer Bonita," which won him a Grammy for Best Mexican-American/Tejano Music Performance.
Latin Grammy winner Alejandra Guzman turned up the heat Saturday night at the Palms Casino Resort as the non-stop entertainment and festivities to celebrate Mexican Independence Day continued in Las Vegas. While "La Reina del Rock" wowed crowds with a high-energy concert, Puerto Rican pop icon Chayanne performed titles from his recently released album "En Todo Estare" at the Axis Theater at Planet Hollywood Resort & Casino.
Comedian Gabriel Iglesias kick-started the weekend Friday night at the Mirage's Terry Fator Theater, while Marco Antonio Solis took the stage at the Axis Theater at Planet Hollywood.
McCarran International Airport welcomed passengers to Las Vegas Friday morning with a special performance by Mariachi Oro Del Rancho. The 19-member student band from Rancho High School in Las Vegas greeted passengers, many who will have just arrived directly from Mexico, in the Terminal 3 international arrivals lobby on Friday morning.
From Friday through Sunday, a total of 32 commercial flights will fly directly from Mexico to McCarran International Airport, bringing more than 4,500 visitors to Las Vegas. In addition to regularly scheduled flights from cities such as Guadalajara, Monterrey and Mexico City, Mexican air carriers AeroMexico, Interjet, Magnicharters, and Volaris have added 12 chartered flights that will include nonstop service from five cities that do not normally enjoy direct air service to Las Vegas.
While McCarran traditionally sees a spike in activity associated with Mexican Independence Day, also known as El Grito weekend, year-round interest in Las Vegas from Mexico has been on the rise, and is expected to continue to be an area of growth in the years to come. Las Vegas Convention and Visitors Authority research indicates international travelers stay longer and spend an average of 50% more per trip, meaning these added flights will pump millions of dollars into the local economy.
Journalists and news organizations: Visit the LVCVA Newsroom for updated photos from this weekend's performances. Or, register to receive automatic email alerts when new content is posted.