Visitors Flock to Las Vegas to Commemorate Chinese New Year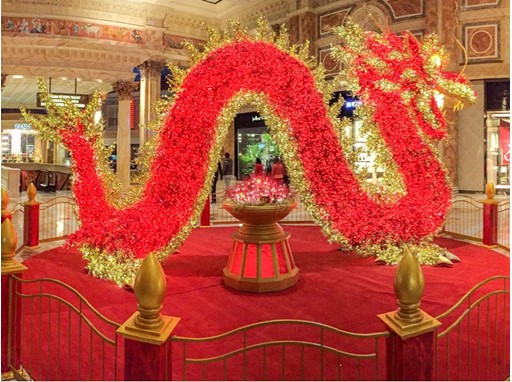 LAS VEGAS – Las Vegas will celebrate the 2017 Chinese New Year with an extensive array of culinary offerings, entertainment and experiences for visitors to usher in the Year of the Rooster. Honoring the rich culture and historical importance of Spring Festival, Las Vegas will feature symbolic décor and stunning colorful displays, wishing prosperity, health and happiness to all.

FESTIVITIES
Las Vegas' newest resort, Lucky Dragon Hotel & Casino, is the first resort designed from the ground up to create an authentic Asian cultural experience. Opened Dec. 3, 2016, the property boasts an extensive list of tea curated by Las Vegas' only tea sommelier, Asian-inspired restaurant concepts, gardens and spas. Lucky Dragon will begin its 15-day Year of the Rooster celebration on Jan. 28 with a traditional lion dance followed by giveaways.
Kicking off the Year of the Rooster, guests will be taken on a journey around the world at The LINQ Promenade during a four-day festival, Jan. 27-30. Professional dancers from Sichuan dance troupe and local Chinese communities will perform daily, with dragon dances held nightly at 6 p.m. on the Fountain Stage. The anchor of The LINQ Promenade, The High Roller, will be lit red and gold to mark the beginning of the festivities on Jan. 27.
An annual tradition, The Cosmopolitan of Las Vegas will host the 'Dotting of the Eyes' ceremony where performers will awaken a dragon and lions by dotting their eyes with red paint. Once awakened, the dragon will lead a parade through the property on Jan. 30.
Sundance Helicopters will welcome customers with Chinese lanterns, tangerine trees and festive decorations for New Year's celebrations. On Jan. 28, its Grand Canyon West terminal will come alive with Chinese lion dancers and drummers performing with the Grand Canyon as a stunning backdrop. Guests will also receive oranges—a symbol of happiness and prosperity—throughout the weeklong celebration.
The sixth annual Chinese New Year in the Desert™ commemorates the most important Chinese holiday with an exciting weekend of events. Beginning on Jan. 27 at Fashion Show Mall, festivities will include a ribbon-cutting, performances on the runway by the Sichuan Song and Dance Theater Company, as well as authentic dragon dances and an eye painting ceremony by Las Vegas Lohan School of Shaolin. The celebration continues on Jan. 28 in Downtown Las Vegas with the Las Vegas Spring Festival Parade. The parade will start at Fremont Street, and feature local businesses, bands and dance groups as they come together in a sea of vibrant colors to showcase their talent and creativity with extravagant floats. Immediately following the parade, visitors can enjoy an after-party at Downtown Container Park with live entertainment, restaurants, retail shops and various free activities, including building their own complimentary lantern and tossing red ribbons into the wishing tree for good fortune. Chinese New Year in the Desert culminates with the DragonFest Benefit Concert on Jan. 29 at The LINQ Theater with a variety of local and international Chinese troupes.
Lion and dragon dances are an important ritual of Chinese culture, symbolizing good luck and prosperity. These traditional dances, commemorating the Lunar New Year, will take place at ARIA Resort & Casino, The Palazzo Las Vegas and The Venetian Las Vegas on Jan. 28, MGM Grand Hotel and Casino, Palms Casino Resort on Jan. 29, and the Bellagio and Palace Station on Jan. 30.
ENTERTAINMENT
Hong Kong musician, singer, songwriter and actor Sam Hui will perform at The Venetian Las Vegas on Jan. 28. Hui is credited with popularizing Cantopop with an infusion of Western-style music and using popular street-Cantonese verbiage in his lyrics. Shannon Lee, daughter of famed martial artist Bruce Lee, will make a special appearance with Hui.
The Park Theater at Monte Carlo, will celebrate the Chinese New Year with a performance by Chinese pop-rock group Band of Brothers on Jan. 29. Each member of the band has a career spanning over two decades, releasing more than 80 albums combined.
DÉCOR
Visitors to the world-famous Conservatory & Botanical Gardens at Bellagio will enter the colorful gardens through a Moon Gate. Four ding pots will burn incense for good luck, protecting guests against bad fortune. Inside the gardens, a rooster perches atop a mountain, complete with a hen guarding her eggs and newly-hatched chicks. The gardens are surrounded by ponds and sunflowers, and feature warm glowing light from red rose lanterns and crystal chandeliers.
The Palazzo Las Vegas' Waterfall Atrium and Gardens will boast a stunning floral and horticulture display featuring a fire rooster standing 15 feet tall and 16 feet long. The magnificent creature weighs 3,500 pounds and was crafted of steel and resin, hand-painted and covered with approximately 60,000 crystals. A dragon spanning 18 feet will adorn the infinity pond in the middle of the Atrium in honor of the Chinese New Year. Throughout the resort, visitors can spot eight smaller roosters, each hand-carved and painted by artists.
Wynn Las Vegas and Encore Las Vegas will place large statues of roosters at various locations throughout the properties. Beautiful silk dragons, lanterns and more than 100 tangerine trees will be placed in botanical displays, symbolizing good luck and wealth for visitors in the upcoming year.
Visitors to The Cosmopolitan of Las Vegas can delight in the iconic lobby's digital column display to usher in the Year of the Rooster. The display takes cues from Jianzhi, the Chinese art of paper cutting, to bring to life the 12 animals of the Chinese Zodiac.
CUISINE
Diners at Lucky Dragon Hotel & Casino can enjoy a prix fixe menu at Pearl Ocean, the resort's live seafood and dim sum restaurant, Jan. 28-Feb. 5. The menu includes lotus root, black moss and pork tongue soup, stir fried sliced conch, Dungeness crab and more.
Patrons can indulge at China Poblano from José Andrés at The Cosmopolitan of Las Vegas with a menu available during a 15-day celebration starting Jan. 27. Fare includes dried oysters, delicacy fat choy, feng and a variety of other significant dishes in Chinese culture. In addition, China Poblano will serve Hardy Noces d'Or Cognac, a 50-year-old cognac in a rooster branded crystal bottle as a nod to the Year of the Rooster.
Chinese New Year Dim Sum Brunch returns to Wing Lei at Wynn Las Vegas. The award-winning restaurant offers dozens of traditional Asian delicacies served tableside, presented on extravagant buffets and carving stations. The holiday brunch is available Jan. 27-Feb. 5.
Las Vegas Chinatown Plaza offers the largest sampling of authentic Asian cuisine in Las Vegas, including Canton, Mandarin, Vietnamese, Japanese, Hong Kong and Hawaiian. The festival, on Feb. 12, features performances, dances, cultural activities and vendors
.
Authentic Chinese cuisine can also be found at:
• MR CHOW at Caesars Palace
• Fin at The Mirage
• Hong Kong Café at The Venetian Las Vegas
• Blossom at ARIA Resort & Casino
• Cha Garden at Lucky Dragon Hotel & Casino
• Momofuku at The Cosmopolitan of Las Vegas, opening in January 2017
CONTACTS
Kala Peterson

LVCVA

United States

702-892-0711