Las Vegas Bids Farewell to the Riviera Hotel and Casino
June 14, 2016
Las Vegas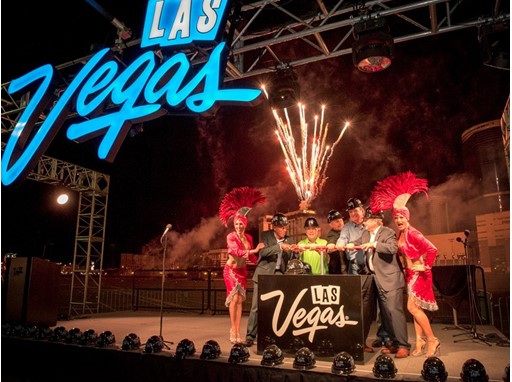 LAS VEGAS -- The Riviera Hotel and Casino's Monaco Tower came tumbling down early this morning, Tuesday, June 14, at 2:37 a.m. in Las Vegas. This event marked the first of two implosions scheduled on the Las Vegas Convention and Visitors Authority (LVCVA)-owned property, with the Monte Carlo tower expected to come down later this summer.
"While we bid a fond farewell to a special part of Las Vegas' history," said Rossi Ralenkotter, President/CEO of the LVCVA, "we will never say goodbye to what the Riviera has meant to this city and our tourism industry. Instead, we say hello to a critical part of our future as we make way for the Las Vegas Convention Center expansion."
As part of the implosion, a farewell viewing party was held for dignitaries, including Clark County Commissioner Lawrence Weekly, former Nevada Gov. Bob Miller and the creator of "Splash" at the Riviera, Jeff Kutash.
Clark County Commissioner Lawrence Weekly commented, "It's not often that you get to say goodbye and honor the memory of one of our iconic resorts. This is special because we are also marking the first step in the next evolution of the Las Vegas Convention Center. Las Vegas is known for continually reinventing itself and evolving to meet the needs of our audience. The Riviera was once part of that evolution, becoming the first high rise hotel on the Las Vegas Strip."
The Monaco Tower implosion is one of a series of ongoing demolition efforts at the Riviera Hotel and Casino property to move forward with the Las Vegas Convention Center District. The project includes the expansion and renovation of the existing Las Vegas Convention Center, which is expected to expand the convention center by 1.2 million square feet, including 600,000 square feet of additional exhibit space. Construction of the state-of-the-art facility is expected to generate 7,000 high-paying construction jobs and 6,000 full-time permanent jobs.
CONTACTS
Jeremy Handel

LVCVA

United States

702-892-0711

Molly Castano

Communications Manager

United States

702-892-7658